Our Holistic Process
What is holistic planning? Holistic planning is a team-based approach where we act as your quarterback and work in concert with your existing advisory team. This approach ensures all facets of your financial life are working together toward common goals and objectives.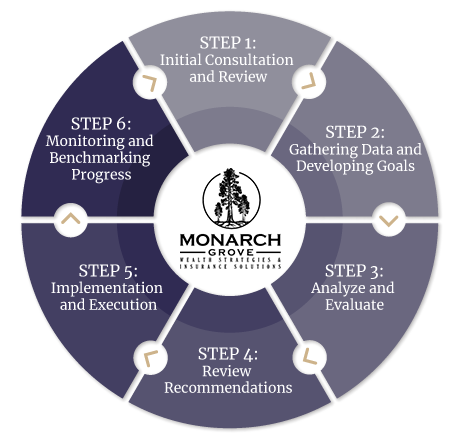 Step 1: Initial Consultation and Review
In a first consultation, our goal is to answer any initial questions you have and get a general idea about where you are currently in your finances and where you'd like to be. Every person's financial situation is unique. As a result, we take plenty of time to discuss you, your family, your business, and any of the things that matter to you most in life.
Step 2: Gathering Data and Developing Goals
We get an overall snapshot of where you are in relation to your goals. This generally includes any account statements, prior year tax returns, profit and loss statements, income statements, balance sheets, etc. The goal of which is to have a firm understanding of where you are currently in relation to your goals.
Step 3: Analyzing and Evaluating
Once we have all the information necessary, we can then analyze and evaluate and start formulating recommendations.
Step 4: Reviewing Recommendations
We'll go over with you and your family the recommendations based on your family's data and talk through your feedback on them.
Step 5: Implementing and Executing
We will come back with any of the necessary adjustments you want for the recommendations and map out an implementation and execution schedule in alignment with your needs and goals.
Step 6: Monitoring and Benchmarking Progress
We'll meet with clients on a quarterly, semi-annual, or annual basis to track and benchmark progress toward their goals, as well as meeting any time a life event occurs such as a change in job, income, purchase or sale of a business, death in the family, marriage, or birth of a new child.